Young Fun 18-30s Croatia Sail Cruise on Traditional Ships Split to Split 7nts (Saturdays)
Activity Level:

2

Comfort:

2

Departs From:

Split

Location:

Split, Hvar, Mljet, Dubrovnik, Korcula, Makarska

Duration:

8 days

Availability:

SATURDAYS, May - October
Activity Level:

2

Comfort:

2

Departs From:

Split

Location:

Split, Hvar, Mljet, Dubrovnik, Korcula, Makarska

Duration:

8 days

Availability:

SATURDAYS, May - October
Highlights
Imagine 7 perfect days with warm Mediterranean weather on a vintage motor-sailing ship full of like-minded 18-35 year olds.
Cruise the magnificent Adriatic coast, relax during the day and experience the hot night scenes.
Discover why this particular cruise has become "a must" for the young traveller....
Visiting: Split, Hvar, Mljet, Dubrovnik, Korcula, Makarska
Book now (obligation free) pay later
Croatia Sail 18-30s Cruise the Dalmatian Coast from Split to Dubrovnik and back again. Party and cruise with like-minded travellers
8 days from Split, Stari Grad, Hvar Town, Mljet National Park, Dubrovnik, Korčula, Makarska, Omiš and back to Split

Imagine 7 perfect days with warm Mediterranean weather on a vintage motor-sailing ship full of like-minded under 30 year olds. Cruise the magnificent Adriatic coast, relax during the day and experience the hot night scenes. Discover why this particular cruise has become "a must" for the young traveller

Departure from Split at 13.00hrs (embark 11-12.30)
Itinerary

8 days from Split, Stari Grad, Hvar Town, Mljet National Park, Dubrovnik, Korčula, Makarska, Omiš and back to Split

18-35s ONLY CRUISE. Bunk bed 'twin' cabins on Upper, Main or Lower Deck. All cabins are BUNK BEDS. Solo travellers can book a double/twin for solo use with a solo use supplement or can offer to share with another solo traveller of the same gender (subject to availability).

Weekly Saturday departures from May to October.
For this trip all you will need is a few T-shirts and a swimming costume to spend seven unforgettable days sailing on the southern Adriatic Sea from one island to another. Relax and let the captain and his crew take care of you. During the day you can swim, snorkel, sunbathe, and explore the underworld of the Adriatic Sea. The evenings you have free to find a good restaurant or discover historical monuments.
Similar cruise for all ages:
https://discovercroatia.com.au/details/11511/232/kl2-vintage-ship-cruise-from-split-to-split-7nts/
Deluxe Young Professionals cruise:
http://discovercroatia.com.au/details/11511/252/deluxe-young-professionals-cruise-split-split-7nts/
Similar cruise 25-40s:
https://discovercroatia.com.au/details/11511/158/dalmatian-voyager-cruise-25-35s-on-ms-casanova/
SHIP INFO AND PHOTOS:
ENS: https://discovercroatia.com.au/ships/vintage-ensuite/

TRAD: https://discovercroatia.com.au/ships/traditional/

CRUISE FAQ: https://discovercroatia.com.au/before-your-cruise/

INCLUDED:
• 7 nights cruise aboard your chosen category ship
• Half-board: Continental breakfast and lunch daily, starting with lunch on Day 1 and finishing with breakfast on Day 8
NOT INCLUDED:
• Visitors taxes 40 EUR per person per week (to be paid locally in Croatia)
• Entrance fee to Mjlet National Park approx 15 EUR pp
• Tips and gratuities
• Meals/drinks not listed
# Optional Excursions: lots of active optional extras to purchase locally in Croatia. Ask us for the list
ITINERARY:
DAY 1 SATURDAY SPLIT – STARI GRAD (L) - Departure 13.00hrs!
Check in from 11:00hrs. Departure at 13hrs from Split harbor as we continue towards Stari Grad on the island of Hvar where records confirm that this is the sunniest Adriatic island. Free afternoon to explore this unique town and its famous horseshoe shaped bay. The famous Stari Grad Field (a plain) is the oldest in Croatia and the best preserved example of the ancient Greek system of agriculture. Both the old town and this plain are part of the world heritage protected by UNESCO. Overnight in one of the ports of Stari Grad, main or ferry port( 2 km away) depending on availability in port.
DAY 2 SUNDAY STARI GRAD - HVAR (B, L)
We continue towards the jet-set island of Hvar with lunch on board. Hike up the zig-zag path to the town fort overlooking the harbor for lovely scenic views of your ship. Hvar is town known for its nightlife and bars - the place to be, so get yourself dressed and ready to go! The most famous bars are Carpe Diem, Kiva, Sidro, Nautica and many others...
DAY 3 MONDAY HVAR - MLJET (B, L)
We leave Hvar and cruise towards Mljet island with a stop for a refreshing swim. Arrival in Mljet National Park with wonderful salt water lakes and the emerald green forest that embraces them. The entrance ticket (approx. EUR 15) includes a boat ride to St. Mary's Isle, located on the Big Lake. Alternatively, rent a kayak, bicycles, scooters or convertible cars to roam around the island on your own. Overnight in the port of Pomena or Polače (depending on port conditions/traffic)
DAY 4 TUESDAY MLJET – DUBROVNIK (B, L)
Early morning departure towards the world famous town of Dubrovnik. To fully understand the story behind this historic town and its monumental walls, our guide will take you on a walking tour to discover the history of this once highly important and independent republic. Must do's are walking the stone walls and a cool drink in Buza café-bar out on the rocks. Surprisingly, a kayaking tour around the Dubrovnik walls is one of the best kayaking tours in Croatia with great photo opportunities. The ship overnights in Dubrovnik. Enjoy a night out in Croatia's most famous city. Enchanting and magical.
DAY 5 WEDNESDAY DUBROVNIK – KORČULA (B, L)
After breakfast, the ship departs for Korčula island, believed to be the birth place of explorer Marco Polo. Korčula town is famous too for its awesome city walls and the impressive fish bone street pattern (cooling effect in hot summers) and you will see this while exploring this charming town. Once night falls step out to try out local cocktail bars including Dos Locos cocktail bar – we think it is one of the best!
DAY 6 THURSDAY KORČULA - MAKARSKA (B, L)
We depart from Korčula in the morning. Swim stop on the way and arrival in Makarska in the afternoon. Our ship docks overnight in Makarska port so you can enjoy Makarska's night life till the early hours. A visit to the famous disco in a sea cave is a must!
DAY 7 FRIDAY MAKARSKA - OMIŠ – SPLIT (B, L)
Breakfast and departure towards Omiš, where you can join the optional river rafting experience on the Cetina River. Don't miss out on seeing the numerous sights and shops in this city, experience the beauty and night life and see why this city has become so popular to young people from all round the world. Visit UNESCO protected Diocletian Palace which forms the heart of the city as well as a sandy Bačvice beach which buzzes day and night.
DAY 8 SATURDAY SPLIT - Departure (B)
Early breakfast. It is time to say goodbye to the crew and all your new friends! You must vacate your cabin by 09.00hrs. The ship leaves port again at 13.00hrs so you must have your bags off the ship by 12.30hrs.
B-Breakfast, L-Lunch
==============================================================================
SHIP TYPE DESCRIPTIONS: All cabins are BUNK BEDS. (All ships have free WIFI)
Traditional wooden ships.
ENS: Vintage Ensuite Boats (private bathrooms): air-conditioned salon/restaurant, cabins with private shower/toilet (3rd bed possible on request), mostly bunk beds.
TRAD: Vintage Traditional Boats (shared bathrooms): air-conditioned salon/restaurant, cabins with washbasin, common showers/toilets, bunk beds. (no double beds).
All 'On Deck' cabins are on the Main or Upper Deck. (You won't know if you are on Main or Upper Deck until the day of the cruise). Under Deck (Lower Deck) cabins are in the hull of the ship below the main deck.
UPPER/MAIN (ON) DECK CABINS ARE ALLOCATED ACCORDING TO AVAILABILITY. Lower Deck cabins are in the hull of the ship below the main deck.
==============================================================================
RESTRICTIONS: Captain reserves the right to change the route in case of bad weather conditions. Guests are obliged to follow ship rules (found in written form on the ship) especially with regards to bringing drinks on board. In case of inappropriate behavior Captain reserves the right in requesting clients to disembark.
DISCLAIMER: Due to specific mooring conditions and requirements in some Croatian ports, ships are moored side by side, making it necessary for the clients to cross from one ship to another with gaps in between ships in order to get to the shore. In such cases clients need to take special care when crossing and do this at their own risk. Crew assistance will be given to those needing and requesting it. Cruise not recommended for clients in wheelchairs or with limited mobility.
BEDS: Many cruise ships now have 'flex-beds', which can be moved together to form a Double/Queen size bed with 2 single mattresses on a combined base, leaving a small separation between the mattresses. Even a traditional double/queen bed mattress might have separate bedding on each side, such as 2 single duvets, rather than one large one. If this is an issue for you, please let us know before booking. Thank you.
==============================================================================
Inclusions
INCLUDED:
• 7 nights/ 8 days with continental breakfast & three course lunch with:
• sightseeing of Dubrovnik
• daily happy hours
• 1L of water per person daily on board
Exclusions
NOT INCLUDED:
• Visitors taxes 40 EUR per person per week (to be paid locally in Croatia)
• Entrance fee to Mjlet National Park 15 EUR pp
• Tips and gratuities
• Meals/drinks not listed
Optional Excursions: lots of active optional extras to purchase locally in Croatia
Extras & Upgrades
Many optional excursions are offered for and can be booked and paid for locally. Optional ACTIVE EXCURSION PACKAGE and sightseeing tours.
Frequently Asked Questions
Check out our specific FAQ pages here:

Before You Go - General Croatia Info (general info for all travellers)
Before Your Cruise - General Cruise Info (for all small ship Croatia cruises)
Before Your Island Hopping Tour - General Info (packages combining hotels, ferries and transfers)
Before Your Private Charter - General Yacht and Gulet Charter Info (private charters)
Click here to see how the booking process works: https://www.discovercroatia.com.au/booking-process-how-to-book/
How far in advance do I need to book?
Cruises: For our weekly small ship cruises with guaranteed departures we suggest you book as soon as your plans are in motion. All cruises are extremely popular especially during peak season, which is June, July, August, September and these dates can be booked out up to a year in advance, especially September. One-way cruises are particularly sought-after and tend to sell out first, so please speak to us first to ensure your cruise choice is available before booking any flight arrangements.
Escorted Tours: Escorted Group Tours with guaranteed departures are also best booked as early as possible to ensure your place on the tour, as spaces are limited to a set number of passengers. Once the tour is full that departure is closed for new bookings.
Island Hopping, Self-Drive, Self-Guided Cycling/Hiking and Independent or Private Tours: Independent tours are available most days of the week at any time of year, so if you're booking late these are a great option. They can also start or finish on any day of the week, so can be a great alternative to the cruises (that mostly depart only on Saturdays). You can check out our Island Hopper Tours and our active tours for some examples. If you can't find what you are looking for please make an enquiry on any of our tours and let us know what you need. We love creating custom tours with our clients.
What do the different ship categories mean?
Please see our Ship Descriptions page here, for all the information on Ship Categories, Deck and Cabin Descriptions.
What is half-board? What meals are included?
Half-board (HB): This means that 2 meals a day are usually provided, mostly it will be breakfast and lunch on cruises, and breakfast and dinner on escorted tours. Each cruise or tour will have meals listed on the daily itinerary, so that you will know exactly which meals are included. Some lunches or dinners are swapped occasionally, so that you may enjoy a wonderful gourmet experience with your fellow travellers, such as a Captain's Dinner on a cruise, or a wine-tasting and lunch on an escorted tour. For the remainder of your meals you will be able to dine anywhere you choose and you will be responsible for the cost of those meals. Your Cruise or Tour Director will be happy to recommend a good value and trusted eatery nearby at every location, or you can explore on your own.
Bed and Breakfast (BB): This means that only breakfast is included in your holiday. Most of our Independent Tours include breakfast only, so that you are not beholden to going back to your hotel for lunch or dinner as you are going to be exploring on your own. We think that flexibility with lunch and dinner gives you the best option for exploring Croatia and experiencing the local culture and cuisine.
Full-board (FB) is occasionally offered on cruises as an optional extra, but we do not recommend you take the full-board option unless you are really sure about it. A lot of the joy of the cruise and tour experiences is to dine in local restaurants, 'konobas' (traditional pubs) and bars, so that you can meet the people who live and work there. Why come all the way to Croatia only to eat on-board for every meal? There are so many fabulous (and even some famous!) eateries. Get out there and taste them!
What type of transport is used on the Island Hopper Tours? Local ferries and vehicle transfers
Local ferries: Local ferries are used between the mainland and the islands where possible. Most of these ferries are fast ferries (high speed catamarans). Our Island Hopper Tours include all ferry tickets, as well as delivery of the ferry tickets to your hotel, when we come to pick you up to take you to the ferry port. In some towns, where some hotels are in the pedestrian zone close to the ferry port (like Hvar), then you will be met at the ferry and directed to your hotel, with luggage assistance if required. If your hotel is outside the pedestrian zone you will be met at the ferry and taken to your transfer vehicle, with luggage assistance if required.
Transfers: Most Island Hoppers have private airport transfers included, and private transfers to/from the ferry ports on the islands. Some transfers will be shared transfers if there are others going to the exact same hotel at the same time and it is a short distance.
How fit do I need to be for my holiday?
Relaxation/cultural cruises and tours: On-board your cruise ship, you will need to be able to negotiate gangways and stairs and be able to step from ship to ship as the cruise ships are moored next to each other sideways and sometimes you need to step across to the next ship. You will be walking mostly on the cobblestone streets through the iconic cities and towns of the region. The excursions are best-suited to those who are capable of walking on uneven surfaces as many old cities and towns have limited totally flat surfaces that can accommodate wheelchairs or walking-frames. Please contact us to ask about your specific circumstances, as we are happy to help plan for your needs as best we can. Assistance will be provided on cruise ships to help you navigate getting on and off, but there are a few limitations. Please ask.
Cycling tours: Although almost completely flat this cycle tour is graded easy to moderate as the daily distance ranges between approximately 15-50 km. You will be biking mostly on the dedicated cycle paths alongside canals, rivers and through the iconic cities and towns of the region. This tour is well-suited to those who have never taken a cycling holiday before as it is flat and predominantly traffic-free and you also have the option of skipping the cycling and relaxing on board.
What happens if I can't attend an excursion?
It is possible to relax at your hotel, on the tour bus or on the boat at any time.
What happens if I can't cycle or hike a stage on an active holiday?
For cycling cruises: If you don't want to cycle it is possible to relax on the boat as it moves to the next port of call.
For cycling and hiking tours: If you don't want to (or can't due to illness or injury) cycle, hike or walk a stage, then we will make arrangements to have you transferred to the next stop on your itinerary so that you can continue with your holiday. Prices for transfers vary widely, so pricing will be provided on an 'as needed' basis only.
What equipment do I need?
Relaxation/excursion cruises and tours: You will need comfortable walking shoes, clothes for relaxing, your swimming costume, and a sunhat. Most cruises are fairly relaxed and casual clothing is fine for all meals, though you may want to take one nice outfit depending on where you wish to dine onshore.
Cycling cruises and tours: You will need comfortable sports shoes, comfortable clothes for cycling, waterproof jacket and trousers, a helmet and a sunhat. We supply a detailed packing list with your information pack.
If you have any questions, just give us a call or email:
Call us or WhatsApp: +61 2 9212 1507
Email us: [email protected]
Photos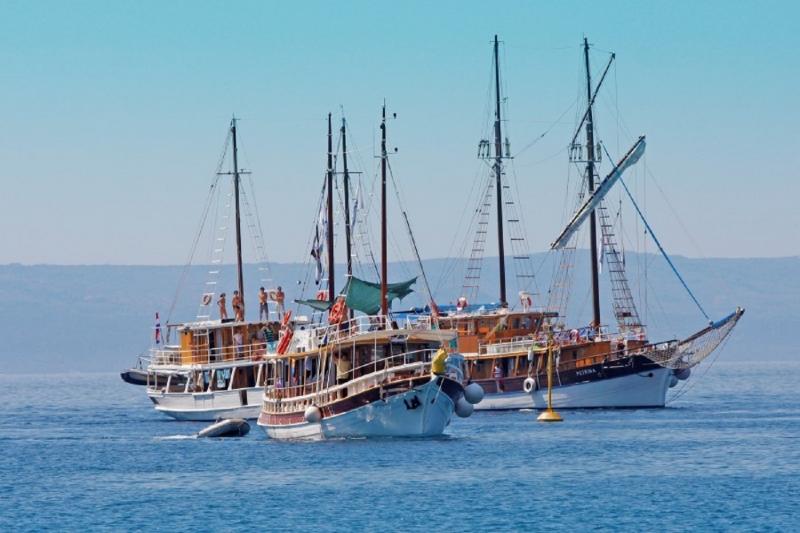 Traditional Ships (ENS or TRAD)

Traditional Ships (ENS or TRAD)

Traditional Ships (ENS or TRAD)

Traditional Ships (ENS or TRAD)
Make an enquiry
Book now
(obligation free) pay later
Available
Special Offer
UNAVAILABLE / SOLD OUT
Click on available dates (blue or red) for pricing
CLICK FOR PRICING / DEPARTURES
Itinerary
DAY 1 SATURDAY SPLIT – STARI GRAD (L) - Departure 13.00hrs!
DAY 2 SUNDAY STARI GRAD - HVAR (B, L)
DAY 3 MONDAY HVAR - MLJET (B, L)
DAY 4 TUESDAY MLJET – DUBROVNIK (B, L)
DAY 5 WEDNESDAY DUBROVNIK – KORČULA (B, L)
DAY 6 THURSDAY KORČULA - MAKARSKA (B, L)
DAY 7 FRIDAY MAKARSKA - OMIŠ – SPLIT (B, L)
DAY 8 SATURDAY SPLIT - Departure (B)